Carefree Indian Market and Cultural Festival
Posted by

ArtInPhoenix.com

on

January 20, 2016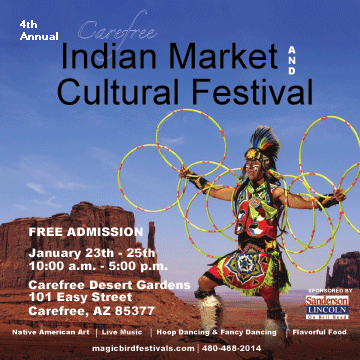 Magic Bird Festivals presents the Carefree
Indian Market and Cultural Festival
Friday, January 22 through Sunday, January 24, 2016
Carefree Desert Gardens, 102 Easy Street, Carefree, Arizona.
There is no entry free for this event.
The Carefree Indian Market and Cultural Festival cultural event features one hundred artists showing Native American art, live music, traditional Native dance, and food.
Many of the invited artists are validated under the Indian Arts and Crafts Act of 1990 for exhibitor authenticity.  For more information call 480-488-2014 or visit magicbirdfestivals.com.