Artlink Call To Artists
Posted by

ArtInPhoenix.com

on

July 15, 2016
Artlink Inc. invites you to submit to

two

calls for artists.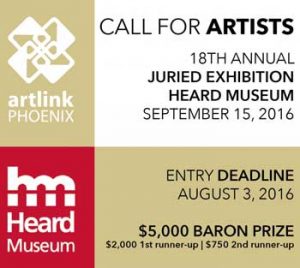 18th Annual Juried Exhibition
Artlink Inc. is now accepting entries for its 18th Annual Juried Exhibition, featuring the works of professional artists residing in the state of Arizona. The exhibition will take place at the world-renowned Heard Museum on Thursday, September 15, 2016, from 6 to 9 p.m. Entry deadline is August 3, 2016.
Three winners will receive cash awards.
For the first time, the top award will be an acquisition prize, funded by Baron Properties.
The "Baron Prize" of $5,000 will be given to a jury-selected artist for an original 2-D work. The winning artwork will become part of Baron Properties' permanent collection, and will be installed in a prominent position in the illuminate residential apartment community, located at 290 E. Roosevelt St., in the Roosevelt Row Arts District.
The first runner-up will receive $2,000. Artworks in all media are eligible for this award.
The second runner-up will receive $750. Artworks in all media are eligible for this award.
Direct Purchase for Baron Collection
Artlink Inc. invites Arizona artists to submit 2-D artworks for consideration of purchase by Baron Properties, the multifamily housing developer of the iluminate and Linear apartment communities in the Roosevelt Row arts district of downtown Phoenix.
A variety of artworks are welcome for submission, including: oil, watercolor, acrylic, graphite, charcoal, pastels, photography, ceramics (wall-hanging ceramics only), printmaking, textile, and mixed media. Artists who specialize in murals and mosaics are also invited to submit. Entry deadline is July 22, 2016.