Art Online
Arizona Artwork Online
ArtInPhoenix.com online gallery for local artists.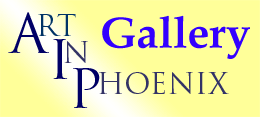 For over ten years, ArtInPhoenix.com has provided free web space for local artists to show and sell their work.  This began at a time when web resources for sharing artwork were far less common than today.  Interest in the gallery has decreased significantly.  At the same time, maintenance requirements have increased tremendously as attacks from hackers have gone up dramatically.
We are looking at alternative solutions but for now we've shut down the gallery.  Thanks to all of you who have shared your artwork on Art In Phoenix.  If you are considering launching your own art website, please contact iNetPlanet for website design and hosting services.
Thank you!